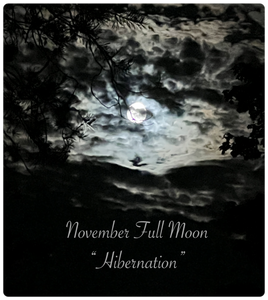 November Full Moon Box
November's Full Moon theme is hibernation. As the colder and darker months descend let's learn from our animal friends.  Let's explore what hibernation means to you.  
Each box will include one skein of my Emma sock yarn dyed exclusively for the Moon Box (80/20 SW Merino/nylon 420 yds/115g), a few "tools" to help with connecting with this month's theme, including ideas and instructions on how to personalize your own ritual.   These tools could be candles, crystals, tea, essential oils, herbs etc, each month will be different or maybe a knitting notion.    Each box will also include a personalized card pull and message for the upcoming month.   
If you are buying this as a gift, please send me a message with the name of the person the gift is intended for so I can cater the card pull to them.   
I am so excited to be putting these monthly boxes out into the world and I'm hoping you'll love them as much as I do.  
Please pick local pick up if you are in or will be in Calgary immediately following full moon.   Any shipping overages will be refunded.   
These will shipped out quickly after the full moon on Monday, November 27 so all the contents can soak up that amazing full moon magic.   
Shipping cannot be combined on this with other products so please place a separate orders for multiple moon boxes and/or other products unless you're doing local pickup.