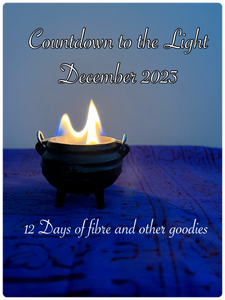 Countdown to the Light Fibre Box
Countdown to Winter Solstice with this fun and witchy fibre box.   This will be a 12 day countdown, intended to countdown to Winter Solstice.  You can choose to use it as such or open it all at once - totally your choice.   You will have the choice between BFL or Polwarth as your fibre.   Each box will contain 12 different colourways, most likely as a fade, each colourway being at least 1.2 oz, making the fibre total over 14 oz!   The colours aren't quite confirmed yet as I'm very much an intuitive dyer and will likely make changes at the last minute.   
This box will also come with lots of extras, including ritual items like crystals, candles, teas etc and potentially some fibre tools as well.   Every box will also come with an individualized card pull with guidance for the winter season.   
This listing will stay active until mid October or until sold out.   
These boxes will ship mid November to allow timely transit for the holiday mail rush. 
If you purchase more than one box, and need them shipped, please order individually for shipping purposes.   If you do order more than one together to be shipped you will be invoiced after the fact for the extra shipping costs.   Any shipping overages over $2 will be refunded.